What are the 5 Crowns in Heaven?
The New Testament scriptures describe 5 crowns in heaven that believers can look forward to as a reward of their faithfulness to God. These awards are the imperishable crown, the crown of righteousness, the crown of rejoicing, the crown of glory, and the crown of life. The first-century church faced incredible struggles as they embarked on the Great Commission.
The new testament writers encouraged them with words about God's promises for them. Often times, when we struggle, it's easy to forget the tremendous victory that we have in Christ. The following article is to examine the 5 crowns in Heaven mentioned in scripture.
First, let's perform a quick study into the word for "crown" in the original Koine Greek. Crown is the Greek word Stephanos.
Stephanos means a crown, a mark of royalty or exalted rank, a mark of honor, and also interestingly a wreath or garland that was given as a prize in public games. The latter description has incredible significance when considering the first of the 5 crowns in heaven.
Crowns in Heaven #1 | The Imperishable or Incorruptible
In the Apostle Paul's 1st letter to the Corinthians, he uses a metaphor to the Christian life referring to a race. In Rome and Greece, people loved public games. Paul writes:
Do you not know that those who run in a race all run, but only one receives the prize? Run in such a way that you may win. Everyone who competes in the games exercises self-control in all things. So they do it to obtain a perishable wreath (stephanos), but we an imperishable.
1 Cor 9:24-25
Paul is encouraging the church, who was going through some significant trials, to keep running because like the athlete, there was a prize waiting at the finish line. He uses public games as an example. Everyone respected, or at least admired, the athletes in those games. The Apostle points out that they work so hard for a crown or a wreath that will decay. All things in this world break down. Paul, however, points out through salvation the crown we receive never perishes.
Read More: The Character Traits of Paul the Apostle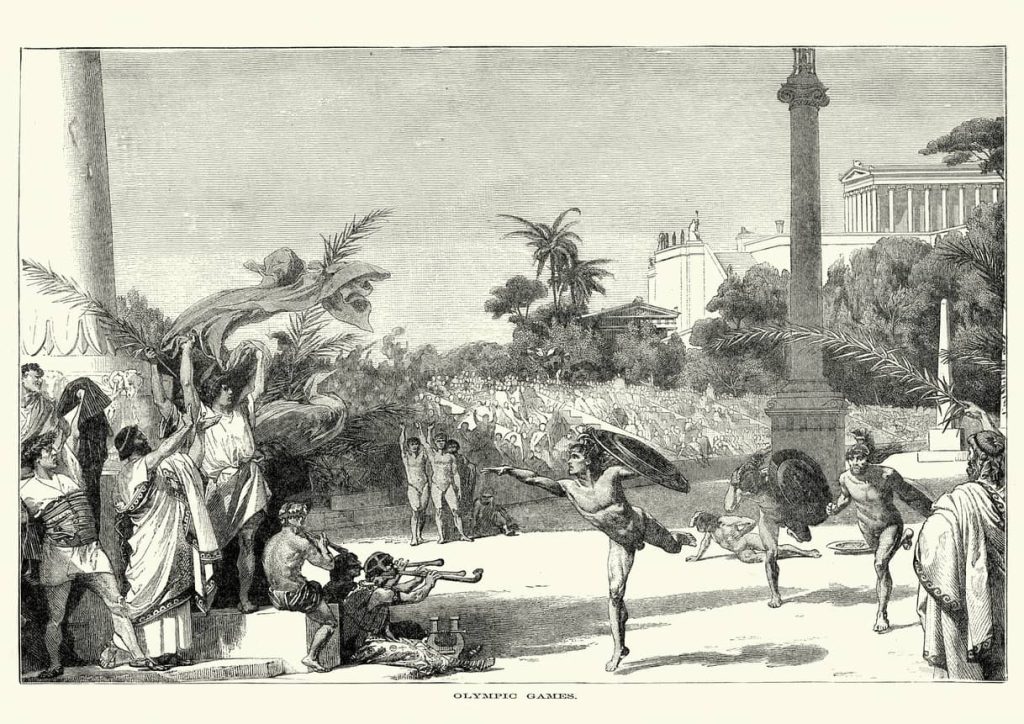 Jesus Himself urged His followers not to put too much focus on investing our identity in earthly treasures. He said:
"Do not store up for yourselves treasures on earth, where moth and rust destroy, and where thieves break in and steal. But store up for yourselves treasures in heaven, where neither moth nor rust destroys, and where thieves do not break in or steal;"
Matt 6:19
The Apostle Peter also talks about our inheritance as imperishable.
Blessed be the God and Father of our Lord Jesus Christ, who according to His great mercy has caused us to be born again to a living hope through the resurrection of Jesus Christ from the dead, to obtain an inheritance which is imperishable, undefiled, and will not fade away, reserved in heaven for you
1 Peter 1:3-4
The imperishable crown is a mark of royalty that will not be destroyed like the things of this world. Even our most prized possessions don't follow us to the next life. Does this mean we can't have nice things? Absolutely not! But it does give us something to consider as to what we allow to become our identity. Paul said it himself "What we see is temporary. What is unseen is eternal". (2 Cor 4:18)
Crowns in Heaven #2 |Righteousness
The Apostle Paul writes to Timothy about receiving a crown of righteousness.
I have fought the good fight, I have finished the course, I have kept the faith; in the future there is reserved for me the crown (stephanos) of righteousness, which the Lord, the righteous Judge, will award to me on that day; and not only to me, but also to all who have loved His appearing.
1 Tim 4
Paul again talks about his perseverance through trials. With the fullness of the New Covenant upon them all, there was a crown of righteousness for him and everyone else part of the new thing that God was doing. When you look at Paul, you realize that righteousness could not be by works. The Apostle did a lot of great things, but if righteousness was based on works alone, he had a lot to make up for.
According to Scripture, we are not righteous by our own works. Our righteousness comes from our faith in Christ.
For in it the righteousness of God is revealed from faith to faith; as it is written: "But the righteous one will live by faith."
Romans 1:17

Also see Gal 3:11
Number 2 of the 5 crowns in heaven is righteousness. Since all of us sin, the ONLY way we are righteous before God because of Jesus.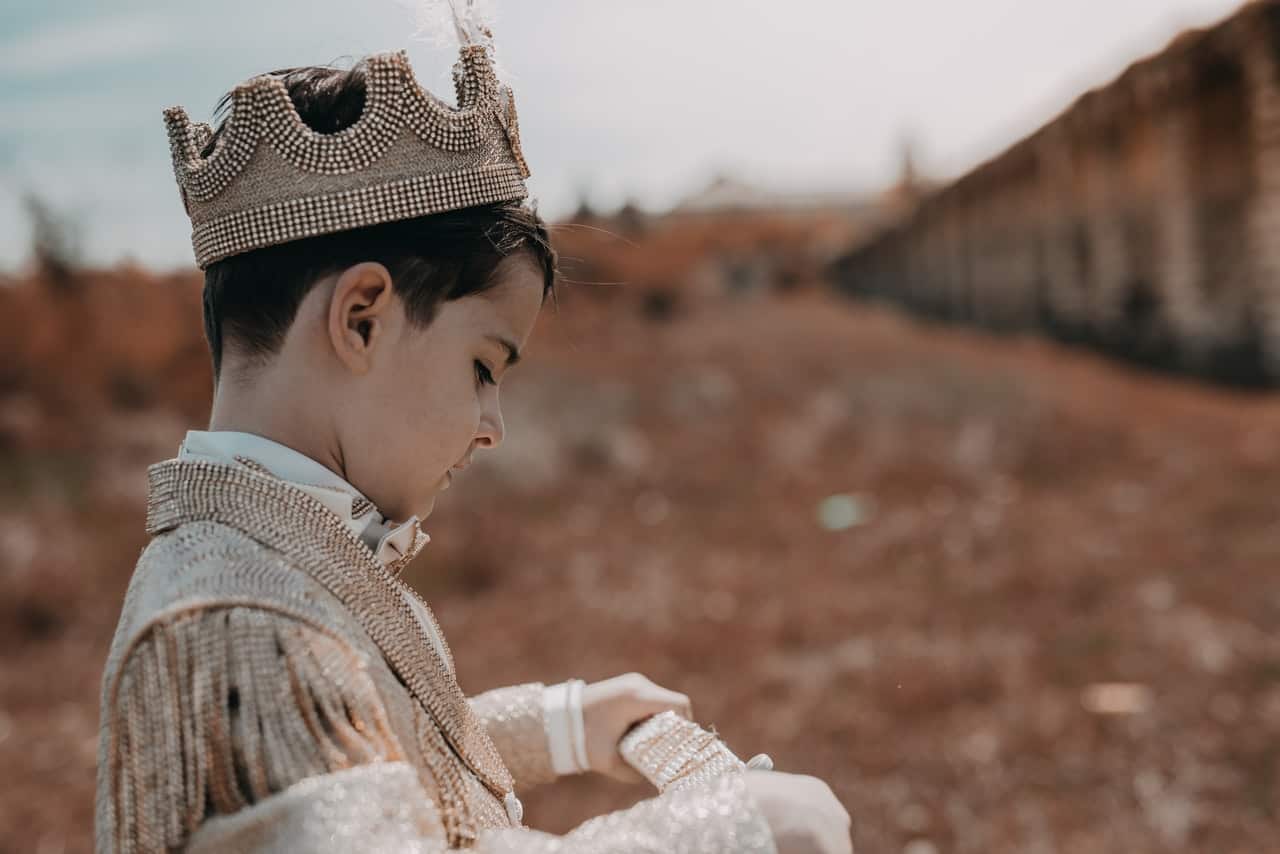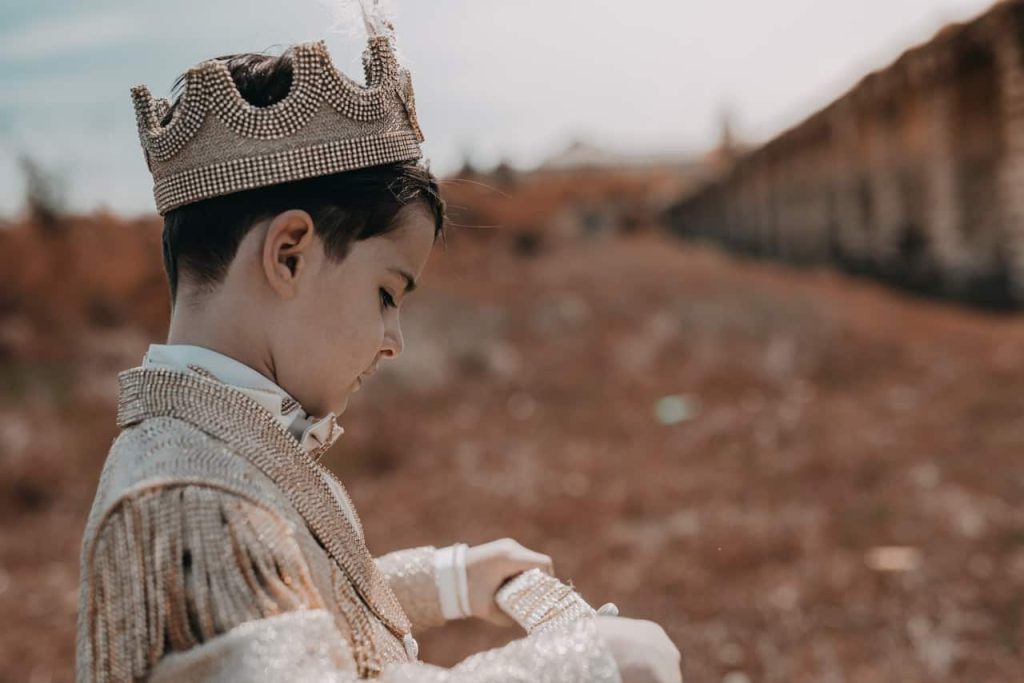 Crowns in Heaven #3 | Rejoicing
The Apostle Paul encouraged the church to rejoice! Joy is a fruit of the Spirit. It is different than happiness. Happiness is based on your external circumstances. Joy comes from within. Rejoicing exists in the life of the believer despite our personal challenges because of the assurance we have in Christ.
Rejoice in the Lord always; again I will say, rejoice!
Phil 4:4
When he wrote the Thessalonians, Paul explains that joy can be found through the finished work of Christ, which they were all seeing manifest in the first century.
"For what is our hope, or joy, or crown of rejoicing? Is it not even you in the presence of our Lord Jesus Christ at His coming?"
Thes 2:19
There was a whole lot of hardship in the first century for Christianity. The early church feared for themselves and those that they were losing. Despite this, Pauls says "Rejoice!" He encourages them to be joyful amidst their struggles. Imagine that? Someone reading right now needs to be encouraged. Rejoice!
The Apostle John, in Revelation 21, tells us of the fullness of the new covenant.
He will wipe away every tear from their eyes; and there will no longer be any death; there will no longer be any mourning, or crying, or pain; the first things have passed away."
Rev 21:4
Earlier, we talked about things that you could not take with you into the next life. Joy is not one of them. You can experience joy here and most certainly in the next life. Rejoicing is one of the 5 crowns in Heaven because it never leaves us. Luke even writes about there being a joyful shout in heaven because of salvation. Think about that, the day you, or anyone, accepts Christ, there is a celebration for you before the throne of God!
Read the full Parable of the Lost Sheep
I say to you that likewise there will be more joy in heaven over one sinner who repents than over ninety-nine just persons who need no repentance.
Luke 15:7
Crowns in Heaven #4 | Glory
The next of the 5 crowns in heaven is glory. In 1 Peter, the apostle encourages the elders to keep serving the church diligently and not get tempted into going after worldly things.
And when the Chief Shepherd appears, you will receive the crown of glory that will never fade away.
1 Peter 5:4
The tribulation they were experiencing wasn't very glorious. The ugliness of our circumstances is never an indicator of whether God's glory is there. It's always there. Peter is saying "Stay the course. It won't always be like this. You and everyone else are partakers of the glory of God."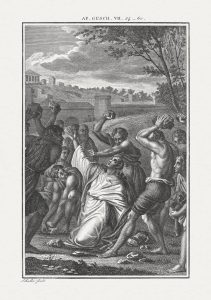 When Stephen was stoned to death in Acts 7, we see that looked up and what did he see? A revealing of God's glory.
But he, being full of the Holy Spirit, looked intently into heaven and saw the glory of God, and Jesus standing at the right hand of God;
Acts 7:55
The word glory is the Greek word Doxa δόξα. It refers to the nature of God, His Majesty, and the honor He, and only He is due. It's worth mentioning that the name Stephen is from the Greek word Stefanos, which means crown. His whole life, Stephen's name was a prophetic symbol of the crown of glory he would see and partake of through Christ.
It's important to recognize that we ourselves are not worthy of glory. Only God is glorified. But, His glory is like a mark of honor for the believer because we are His. The more we look to Him, the more we can understand how glorious He is. No wonder one of the 5 crowns in heaven is glory. In Romans 8, Paul writes:
For I consider that the sufferings of this present time are not worthy to be compared with the glory which shall be revealed in us.
Romans 8:18
Crowns in Heaven #5 | Life
The last of the 5 crowns in Heaven is Life. Jesus separates Himself from those who came before Him by sharing that He is bringing Abundant life.
The thief does not come except to steal, and to kill, and to destroy. I have come that they may have life, and that they may have it more abundantly.
John 10:10
Read More: Who is the thief who comes to steal, kill, and destroy?
One day our physical lives will end, but the promise of the new covenant is eternal life. When you come to Jesus, you receive the crown of life, which s can never be taken away from you.
And this is the promise that He has promised us—eternal life.
1 John 2:25
Just like our physical lives need things like food and water, Jesus is what we need to sustain our spiritual lives. He refers to Himself as "the Life" (John 14:6). Also, the "living water" and the "bread of life" (John 4:10, 6:35).
James also talks about the crown of life is our blessing despite the challenges we face.
Blessed is the man that endures temptation: for when he is tried, he shall receive the crown of life, which the Lord hath promised to them that love him.
James 1:12
The Apostle John, while writing what we know as Revelation, was encouraging the church with this promise. Despite what they would suffer, John mentions life is one of the crowns in heaven they would surely possess.
Do not fear what you are about to suffer. Behold, the devil is about to cast some of you into prison, so that you will be tested, and you will have tribulation for ten days. Be faithful until death, and I will give you the crown of life.
Rev 2:10
The first-century Christians would suffer terribly for the cause of Christ, even to the point of death. They were comforted knowing that there was a greater promise beyond this world and that was eternal life.
What do the 5 Crowns in Heaven mean today?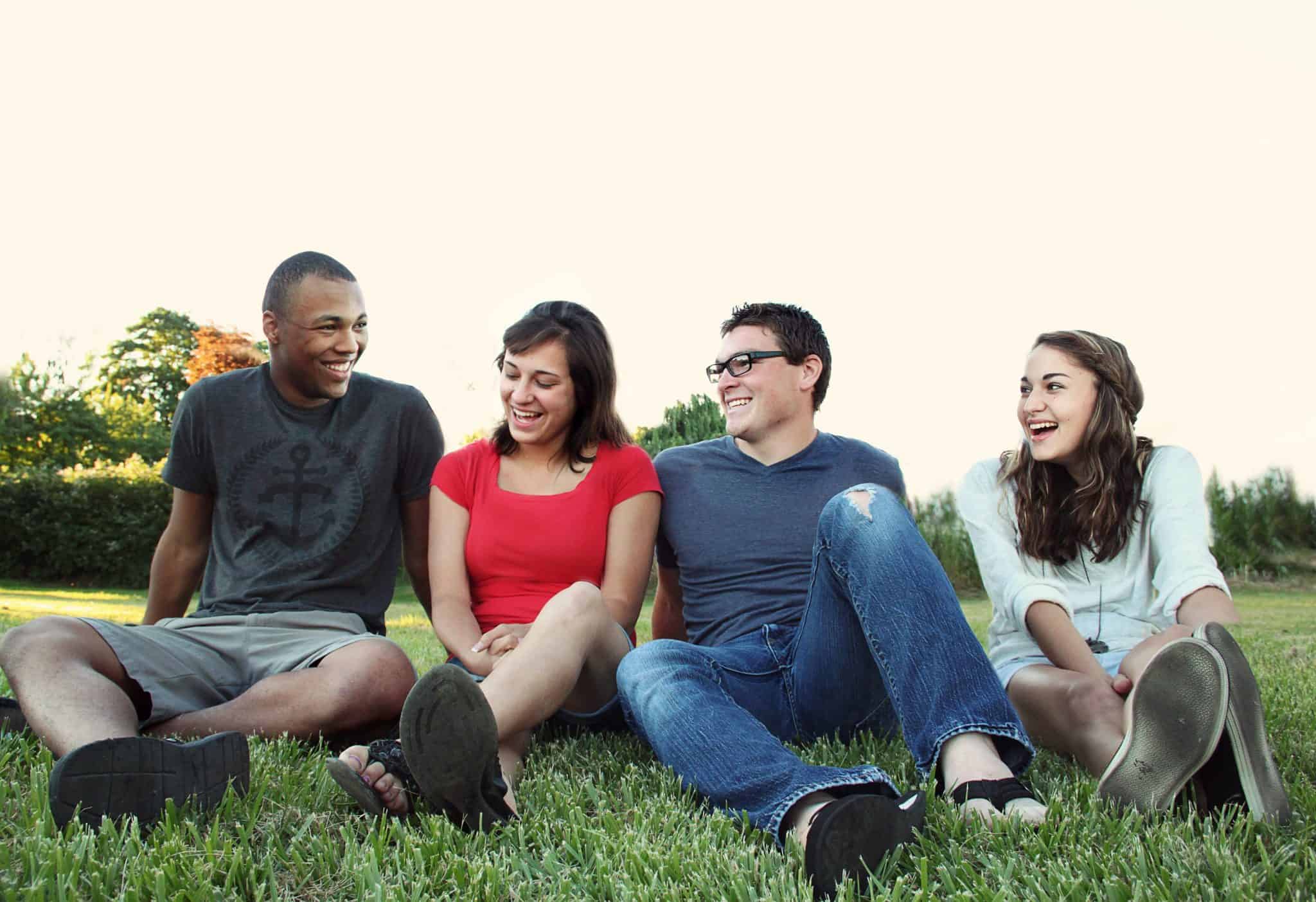 It is often taught that the 5 crowns in heaven are some future reality as if we are waiting for them. This could not be further from the truth.
You must remember that in the first century, the transition from Old Covenant to New Covenant was happening before their very eyes. They did not have the Bible as we do. The church was walking out the tough road of not only understanding the New Covenant but spreading it to others.
The temple still stood in Jerusalem as a symbol of the Old Covenant. There were people in the Roman empire who had not heard the Gospel. Christians were battling the temptation to return to abandon the Gospel and Old Covenant ways. Their family is turning against them and they were being persecuted at every turn, often to the point of death.
When the temple fell in Jerusalem in 70 AD, just like Jesus said it would be in Matthew 24, it was a clear sign that the old had passed away and the new is here. 2000 years later, we have the written word of God, the fullness of the new covenant, and already possess the 5 crowns in heaven.
Do you not have the following 5 Crowns in Heaven today?
Incorruptible Eternal Blessings
Righteousness by faith in Christ
Rejoicing in the completed work of Christ
Access to the Glory of God
Eternal life
The first-century church was striving toward the discovery of a greater promise. The sooner we as Christians realize that today with strive with the crowns in heaven we can make an even bigger impact in this world.
Did you enjoy this study on the 5 crowns in heaven? Stay connected with us by checking out our digital church. Together we can change the world for Jesus!
Get An Alert For LIVE Christian Services and Radio Shows
Get a notification whenever Sound of Heaven goes LIVE! Join us as we bring Church right to you. Also join in on Long Island New York's #1 Christian radio program which brings the Bible to over 100,000 non Christians every Wednesday and Sunday. They take live calls and and break down the Bible so anyone can understand it!