Bread is a Christmas Favorite
Although these last few Christmases are shaping up differently from previous ones, there are so many good things to think about. You might have some special food you look forward to, but I'm sure you will agree that there is something very comforting about a slice of bread, and the holidays are no exception.  What's better than bread for Christmas?
Festive Bread | An International Christmas Tradition
Here are just a few: 
Three Kings Bread – Mexico; Christmas Stollen – Germany; Julekake – Norway; Pompe de Noel – France; Christopsomo – Greece; Cozonac – Romanian; Bobalki – Slovakia; Krompirjev Kruh (Potato Bread), Slovenia; Chocolate Chip Banana Bread – America; Koledna Pitka (Christmas Eve Honey Bread) – Bulgaria; and of course being Italian, Panettone – Italy. I'm sure there are many others, but it is interesting to note that a variety of nationalities see a sweet festive bread as a very important element in their Christmas celebration.
These breads are usually served to symbolize hope for the crops and good fortune for families during the coming year. As you may have heard, wheat has been called the "staff of life," and some recipes call for a coin baked inside to bless one of the eaters.
Bread in the Old and New Testament
The verses cited in this article are from the King James Bible because I wanted to expand meanings using the original Greek in Strong's Concordance. When Jesus taught His disciples to pray in Luke 11:2-4, He focused on our daily bread in verse three.
2 And he said unto them, When ye pray, say, Our Father which art in heaven, Hallowed be thy name. Thy kingdom come. Thy will be done, as in heaven, so in earth. 3 Give us day by day our daily bread. 4 And forgive us our sins; for we also forgive every one that is indebted to us. And lead us not into temptation; but deliver us from evil.

Luke 11:2-4
Day by day is translated from the Greek word, sémeron meaning presently and beyond or today. Daily is translated from the Greek word, epioúsios meaning needful, daily. Bread in the Bible sounds pretty important doesn't it? And, Jesus declares it is needed daily.
Interestingly enough, after teaching this, He continues with a parable about seeking bread from a friend. I've heard of neighbors borrowing a cup of sugar, but don't know of too many who would ask for bread. But, why not? Jesus, as always, had a reason for sharing this story in Luke 11:5-8.
5 And he said unto them, Which of you shall have a friend, and shall go unto him at midnight, and say unto him, Friend, lend me three loaves; 6 For a friend of mine in his journey is come to me, and I have nothing to set before him? 7 And he from within shall answer and say, Trouble me not: the door is now shut, and my children are with me in bed; I cannot rise and give thee. 8 I say unto you, Though he will not rise and give him, because he is his friend, yet because of his importunity he will rise and give him as many as he needeth.

Luke 11:5-8
Lend is translated from the Greek word kichrenu meaning furnish what is needful. Immediately following these verses, Jesus confirms that we must do our part in Luke 11: 9, 10.
9 And I say unto you, Ask, and it shall be given you; seek, and ye shall find; knock, and it shall be opened unto you. 10 For every one that asketh receiveth; and he that seeketh findeth; and to him that knocketh it shall be opened. Ask, seek, knock (Also found in Matthew 7:7)
Luke 11:9,10
John Chapter 6: 10, 11 speaks more about bread. Jesus feeds 5,000 with 5 loaves and 2 fishes – providing bodily sustenance to His listeners.
10 And Jesus said, Make the men sit down. Now there was much grass in the place. So the men sat down, in number about five thousand. 11 And Jesus took the loaves; and when he had given thanks, he distributed to the disciples, and the disciples to them that were set down; and likewise of the fishes as much as they would.
In John 6:26, 27 – people seek Jesus but He tells them you don't seek me because of miracles but because you ate bread – don't look for meat/bread that perishes but look for enduring meat/bread that the Son of man shall give you.
26 Jesus answered them and said, Verily, verily, I say unto you, Ye seek me, not because ye saw the miracles, but because ye did eat of the loaves, and were filled. 27 Labour not for the meat which perisheth, but for that meat which endureth unto everlasting life, which the Son of man shall give unto you: for him hath God the Father sealed. 
When people ask for a sign in verses 30-35, Jesus speaks of manna (True Bread from heaven).
30 They said therefore unto him, What sign shewest thou then, that we may see, and believe thee? What dost thou work? 31 Our fathers did eat manna in the desert; as it is written, He gave them bread from heaven to eat. 32 Then Jesus said unto them, Verily, verily, I say unto you, Moses gave you not that bread from heaven; but my Father giveth you the true bread from heaven. 33 For the bread of God is he which cometh down from heaven, and giveth life unto the world. 34 Then said they unto him, Lord, evermore give us this bread. 35 And Jesus said unto them, I am the bread of life: he that cometh to me shall never hunger; and he that believeth on me shall never thirst.
Let's look just a little deeper at this "Bread from Heaven." You might have a particular bread you enjoy that might seem like it's from Heaven, but Jesus clarifies their understanding.
In John 6:31 the Greek word translated as manna means edible gum/sap (God's provision to the Hebrews in the desert in Exodus Chapter 16). Ex 16:21 describes this manna as fresh every morning; Ps. 78:24, 25 calls manna corn of heaven or angel's food; I Cor 10:1-3 says manna is "spiritual meat;" Heb 9:4, Ex 16:33 confirms that manna was to be kept in gold pots; Ex 16:31 says manna tasted like wafers made with honey; and in John 6: 31-35,  Jesus says He is the True Bread of heaven – the Bread of Life!
Are you starting to see the importance of bread?
I know . . . you might be asking yourself . . . OK, what does this have to do with bread for Christmas? Why is bread a prominent component of Christmas worldwide?
We all know the Christmas story: the star, shepherds, angels, the stable in Bethlehem, and of course I'm sure you know, BETHLEHEM has great significance!
In Gen 35:19 it was first called Ephrath or Ephrátha which means fruitfulness. Mic. 5:2 contains the prophecy (paraphrasing here) . . . thou Bethlehem Ephrátah, though little among thousands in Judah, yet out of thee shall come forth he who is to be ruler in Israel, who was and is from everlasting.
In Mt 2:6 Bethlehem Ephrátah is confirmed by Herod's chief priests and scribes as the location which is to yield a king over Israel (paraphrasing again) . . . thou Bethlehem in the land of Judah, are not least among princes of Judah for out of thee shall come a governor (meaning shepherd) to rule my people. 
Just a Quick Background Note: 
Bethlehem, a town 5 miles south of Jerusalem, was the ancestral town where David was anointed king over God's people (see I Sam 16:1-13; 17:12, 15; 20:6, 28). See any similarities here?  David is the shepherd chosen by God and anointed king. Jesus is the Chief Shepherd, Son of God, and the anointed King of Kings.
So what does bread have to do with Christmas?
Why is bread such an integral part of the Christmas holiday for so many people?
The answer is very simple. I'm focusing on Bethlehem in its original Hebrew – Beyth-Lechem pronounced bayth-lay-hem, which means HOUSE OF BREAD!
Isn't it fitting that Jesus was born to Mary & Joseph at this location? Jesus, himself, tells us in John 6:35 that He is THE BREAD OF LIFE . . . never any coincidences in God's Word.
Is it any wonder then that BREAD is a prominent topic in Jesus' ministry? Take another look at Luke 11:3 – give us this day our daily bread. Luke 11:5-8 – as in the parable . . . Jesus wants us to keep knocking on the door until we receive God's life-giving bread. In Luke 11:9, 10 and Matthew 7:7, we are to Ask, Seek, and Knock.
I'm sure Jesus knows all about the world's Christmas bread specialties, but He wants us to be sure to ask for the True Christmas Bread, which goes beyond feeding our physical bodies to nourishing our spirits every single day – not just at Christmas!
Jesus is the "hidden manna"provided by God!
Rev. 2:17 declares He that hath an ear, let him hear what the Spirit saith unto the churches; to him that overcometh will I give to eat of the hidden manna, and will give him a white stone, and in the stone a new name written, which no man knoweth saving he that receiveth.
In Rev 2:17 – Jesus speaking (as noted in a Red-letter Bible) . . . promises every overcomer will receive "hidden manna" and a "white stone" meaning acquittal or deliverance from judgment.
Hidden is translated from the Greek word krupto (kroóp-to) meaning to conceal by covering, keep secret (Can you guess what English word is derived from this? – cryptic)
Stone translated from the Greek word philósophos refers to loving wisdom, white being pure and light-filled. This is the intimate, personal relationship Jesus offers every believer this Christmas and always.
So, as we remember Bread for Christmas...
Ex 12:8 – the unleavened bread of the Passover – not contaminated by worldly yeast; Mic 5:2 – the True Bread who came down from heaven, born in the House of Bread; Luke 11:3 – as taught by Jesus; desire the True Bread every day; Luke 11: 5-8 – to persistently ask, seek, knock at the doors of heaven to receive the bread we all need every hour of every day; Luke 24: 30-35 – the True Bread, who after His resurrection travels on the road to Emmaus, stops to spend an evening with His disciples, breaks bread with them.
30 And it came to pass, as he sat at meat with them, he took bread, and blessed [it], and brake, and gave to them. 31 And their eyes were opened, and they knew him; and he vanished out of their sight.  32 And they said one to another; Did not our heart burn within us, while he talked with us by the way, and while he opened to us the scriptures? 33 And they rose up the same hour, and returned to Jerusalem, and found the eleven gathered together, and them that were with them, 34 Saying, The Lord is risen indeed, and hath appeared to Simon. 35 And they told what things [were done] in the way, and how he was known of them in breaking of bread.  
May our eyes be opened, may we gain insight, and may we recognize Him being known for His breaking of bread as stated in Verse 35. He is the Bread, whom we remember broken for us whenever we participate in communion.
Rev 2:17 – Desire the True Bread who provides more than physical sustenance and be filled with "hidden manna" Jesus promises to all who overcome in His Name.
So, no matter what traditional Christmas bread you might enjoy this during the holiday, remember to recognize and partake of Jesus, the True Bread of Beyth-Lechem.
This article was written by Pastor Russ Sacco and placed on the website by Evangelist Jason D'Ambrosio. Learn more about Sound of Heaven, join us for a Sunday Service, or reach out!
Check us out! Attend Live or Watch Online!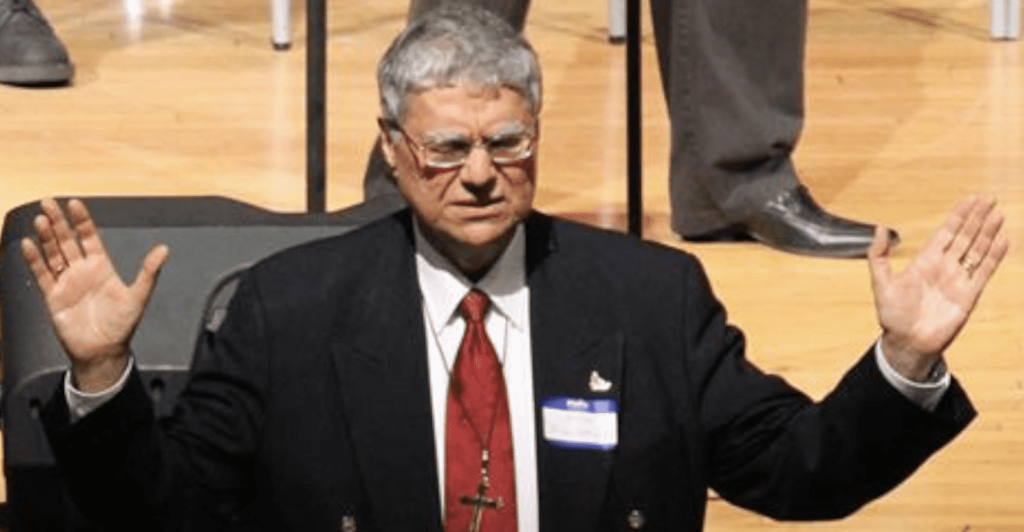 Russ is Co-founder and Senior Pastor at Christiangram Ministries, Inc., and celebrated thirty-one years of ordination November 14, 2020. His music visitation ministry, founded in 1988 by he and his wife, Rose (now with the Lord), has touched multitudes through one-on-one visitation, numerous public events, inspirational songs, preaching, prayer, and personal outreach. He also served as Assistant Pastor for Walk in Love for Jesus Church, North Bellmore, NY for nearly seven years.