Are Churches Open in New York? Yes!
In late 2019, we never would have dreamed of asking a question like "Are churches in open in New York?".  Many types of establishments were heavily impacted by COVID-19, but houses of worship were among the most affected.  New York was on a virtual lockdown for all types of public assembly, which posed challenges for faith-based organizations all over the State. 
For those of us that loving fellowship and corporate worship, the lifting of restrictions have been slow going.  Finally, we can say with confidence that churches are opening in New York as well as the heavy restrictions being placed on many types of businesses and events. 
This is great news for our region.  We at Sound of Heaven have been vocal from the beginning that churches should be considered essential and open with responsible gathering.  
Newsday, a Long Island Media Outlet, reached out to us for comment in June of 2020.  We stayed true to our bold but responsible position along with other local congregations to support churches open in New York for religious services. 
Sound of Heaven's Evangelist Jason D'Ambrosio shares a perspective on the importance of the role of faith-based organizations and churches open in New York State "The church is not a  building.  The people are the church."
Are Churches Open in New York? Some never closed!
The pandemic was a test.  Rules were changing every day in our State and they were not moving in the favor of houses of worship.  Would the church push forward or fold?  As is the case in many areas, some adjusted and pressed on, even advancing, while others struggled or shut down.  
Looking back a year later, we are thankful to have embraced the opportunity.  Yes, you read that right.  People were afraid.  There was a lot of uncertainty.  Food pantries and community support services came to a halt.  Perhaps more than any time in modern history, people were seeking answers and looking to God.  If there was ever a time for the church to step up, we were living through it.
At Sound of Heaven, we weren't going to let the effectiveness of our mission stumble on whether the government kept churches open in New York or not.  You can't close the church!  The church is more than brick and mortar.  The word for "church" in the bible is ekklesia, which means "a called out assemble of people."  We take the role and biblical model of the Christian church to the heart.  
So, while we were against the complete closing down of religious gatherings, our congregation knew that we needed to adjust. The Christian response to the Coronavirus was going to be a litmus test of the Body of Christ.  Looking around us, we were grateful to lock arms with many local churches that stayed the course, despite the challenges.  By "stayed the course", we are not claiming it was traditional church as usual.  We adjusted in many ways and are stronger for it.
Ways we kept Sound of Heaven Church open in New York in 2020
As the restrictions set in that prohibited keeping churches open in New York and around the country, we took action.  Not being able to assemble in the building wasn't going to stop SOH.  Here are some of the ways that kept the mission going.
Many of the local food pantries were completely shut down, even those run by local faith-based organizations.  There were already so many of our neighbors that were food insecure.  We had to do something. With our sanctuary "closed" it became a mobile food pantry.
Together, we created Me & My House Mission.  The concept was that we could open the opportunity for community member to help one another.  We got the word out and requested local residents leave out non perishable items.  We then picked up and distributed the food.  We fed over 500 families every week!
Early on, with Holy Week right around the corner, we all wondered are churches open in New York for Easter Sunday Services?  We had our very first drive-in church service, taking precautions for social distancing.  It was one of our most powerful services and a great way for us to gather safely.  
Little did we know that it would be the last time in a long while for us to fellowship in a group setting, but we made it count!  Apostle Johnny brought a timeley message and God gave us a beautiful day to worship outside!
We have always been of the belief that the internet is a great platform to share the Gospel.  Now that there were mandates against churches open in New York for public assembly, we moved to enhance our online platform.  During this tough time, many turned to online services to stay connected.  
Investing in our digital platform we did our best to bring the in-person Sunday experience to screens across the world.  Think about it, Jesus met people where they were.  We got to do that from a digital perspective.  Today, thousands watch SOH services on Facebook and on our website at live.soh.church.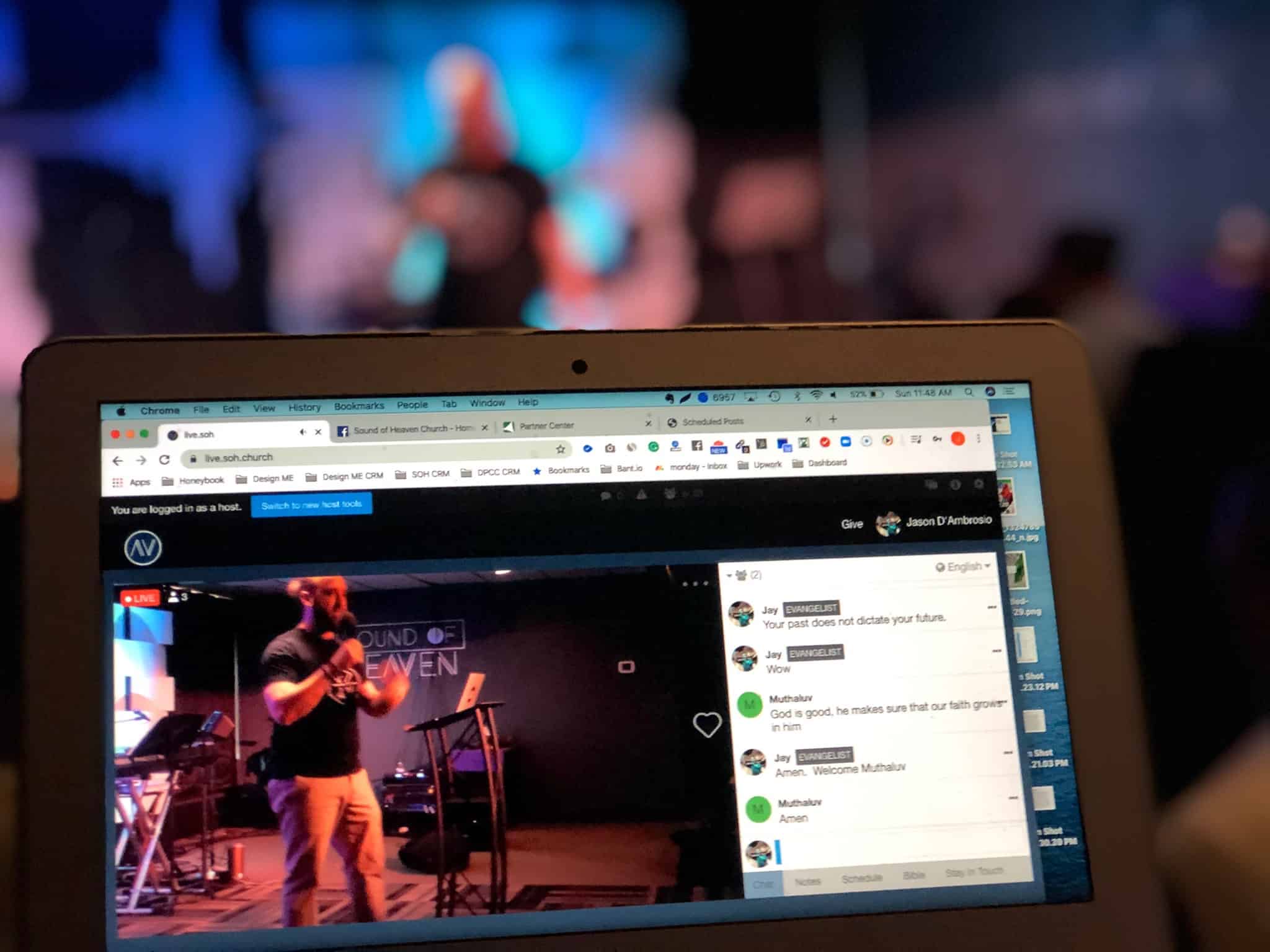 We didn't stop at digital Sunday services.  We developed an online community that is still going strong.  We invite you to join us in person any Sunday at 10:30AM in Deer Park, NY, but feel free to connect in any of the following ways.
You are invited to Sound of Heaven! Church is open in Deer Park, NY!
We would love to see you in-person at Sound of Heaven church in Deer Park, NY.  Every Sunday at 10:30 AM we gather safely, fellowship, worship, and dive deep into His Word with applicable and sound biblical teaching.  We have taken steps to remain safe in this time.  Have questions?  Contact us.
Learn more about visiting Sound of Heaven